Athletics NI Awards 2016

Wed 27 January 2016--admin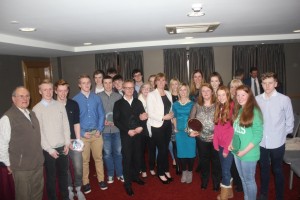 What a night for CoLAC!
We had a great night at the awards ceremony at the Ramada on Wednesday 20th January 2016 with members collecting no fewer than 11 trophies and 3 certificates.
It was satisfying to note that we had awardees across all aspects of the sport including volunteers, officials, coaches and athletes as well as a broad spectrum of events from Track and Field to Road Racing. We also had a wide range of ages represented from the youngest awardee to the…longest serving!
Awards.
Junior Performance Coach of the Year:
Annie Rose
Millennium Volunteer:
Caitlin Fisher
International Selection:
Ben Fisher and James Edgar
NI Record breakers:
Andrew Barkley
U20 Discus 49.62
Mark Burton
U18 TJ 14.30m
Ben Fisher
U18 LJ 7.10m
Christian Robinson, Gareth Thompson,Karl McClean, Ben Fisher
Mens U20 4X100m Relay 42.21s
Official of the Year:
Lyn Fisher
Services to Coaching:
Eric Frizzell
Performance Club of the Year
CoLAC
It was also lovely to see Ciara Mageann, who is temporarily representing her university, picking up awards for breaking 3 NI records (1500m, mile and 3000m) and her International selections.
Well done to everyone from the club who contributed to such a fantastic season.