NI & Ulster Multi Event Championships

Tue 19 August 2014--admin
16th & 17th August 2014
This past weekend saw the Multi Event Championships held at MPT and, as usual, there were plenty of CoLAC athletes involved.
Click on link for the different agegroups
U13/U15 boys…………… Decathlon/Heptathlon…………. U13/U15 girls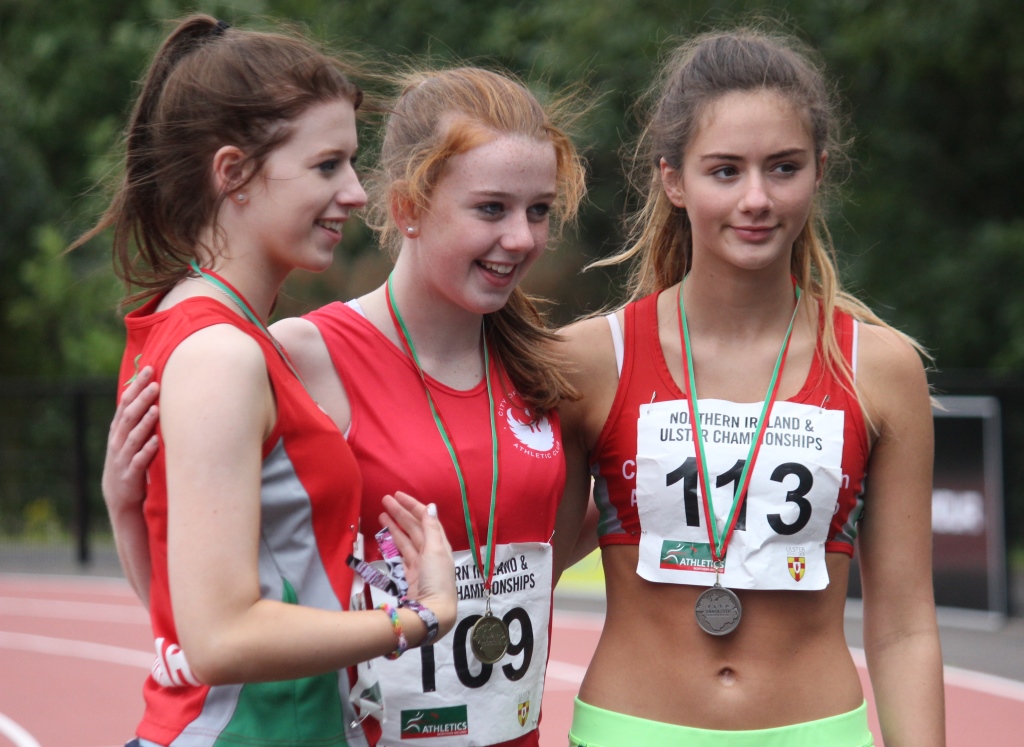 U13/U15 Boys
In the U13 boys age group our athletes made up half the field and 2/3 of the podium finishers with Peter and AdamB battling it out. Both lads produced fine PB performances in hurdles and shot, were joint best in the HJ with 1.27m leaving things very close going into the 800m. Peter's 1st place finish over the 2 laps in a PB of 2.42.01, his 5th PB of the day, was enough to just pip Adam for the silver medal behind a Mid Ulster athlete with Adam lifting the bronze.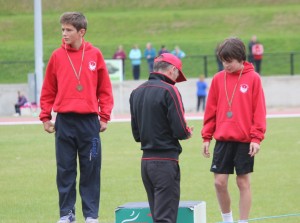 In the U15 boys Bradley produced PBs in hurdles (12.58s), SP (8.91m) and HJ (1.60m) to enter the final event with a lead of only 84 points and for a while it seemed his fantastic 2.27.82 would not be enough for the title. In fact the scorer thought so too until some recalculations were performed after the medal ceremony which showed that Bradley had held on to the lead to win by 10 points. The gold medal was eventually awarded to the right man.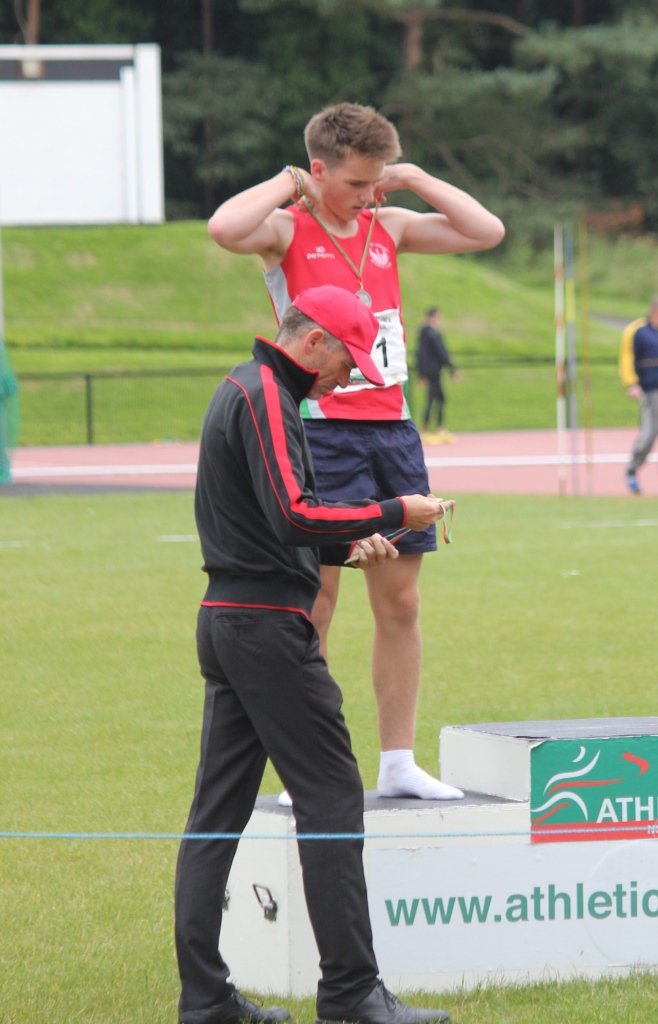 (In case you wonder at the pics – they put Peter and Adam on the wrong sides of the podium and Bradley was initially given the silver before a recount!)
Decathlon/Heptathlon
In the Junior men's Decathlon, held across both days, we saw our 2nd NI & Ulster Champion crowned when Christian produced PBs in Discus (27.04m) and PV (2.4m) along with topping the results in Hurdles, SP and HJ to lift the gold medal with a total of 5013 points. This was an excellent result considering the large amount of training he has had to miss with injury this season.
In the Senior men's event AdamH had a great weekend with PB performances in 100m (11.70s), SP (7.10m), 400m ()53.17s) and Javelin (36.58m) along with wins in the PV, HJ and Hurdles before storming home as first finisher in the 1500m. He joined Christian in the > 5000 points club to take the gold medal and title.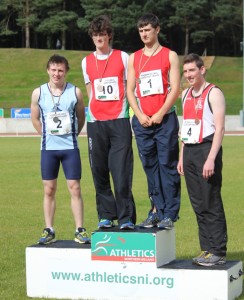 Our heptathletes were also in action across both days. In the U17 age category we had 3 athletes competing for the medals. SarahW produced the best throws of the competition along with PBs in Hurdles and 200m on her way to lifting the bronze medal. Cara's 28.80s 200m was also a new PB for her and she produced the best HJ of 1.51m before finishing first in the 800m. Her 3051 points total was enough for the silver medal.
Neither girl could catch KateF who produced the best hurdle time as well as top finishes in 200m (28.63sPB) and LJ (4.83mPB). Another PB in Javelin before equalling her best ever HJ of 1.45m saw her line up for the final event with a lead over her team mates. It was just as well she had that lead as her very creditable actions during that race when she stopped running and went back to help one of the U20s athletes who had fallen in front of her during that 800m race undoubtedly cost her quite a bit of time. Thankfully her act of concern did not cost her the title and she took home a well deserved gold medal with her 3264 point finish.
In the Senior Women's event Libby had a nightmare start with a mistake at the first hurdle putting paid to her chances of the title. Her final points total of 3319 was enough for silver but anything close to her usual hurdles time would have seen her take the gold. She still managed some excellent performances with her 5.36m long jump PB the highlight along with the best javelin throw of the day.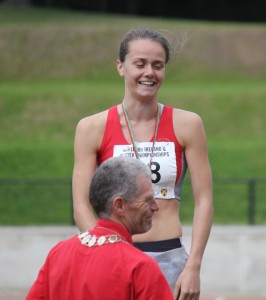 U13/U15 Girls
The U15 girls pentathlon was the largest field of the day with 10 girls competing for the medals, 3 of which were in CoLAC colours. Emelia was one of the very few of our athletes to produce PBs in all 5 disciplines. She did have a bit of a fight with a hurdle but finished the race none the less and I am sure her next run over the barriers will be much faster. Her 4.49m LJ was amongst the best on the day.
Ellie produced PBs in Hurdles (12.83s), shot and long jump (by over 30cms) as well as equalling her best height in the HJ. She started the 800m in 5th position on points but ran a great 2.52.85 to be first home in that event and earn enough points to lift her into 3rd to take the bronze.
AnnaM was just back from an injury lay off but still managed PBs in hurdles and shot along with the leading HJ and a good 800m, less than 2 seconds behind Ellie, which were enough to earn her 2098 points and get her into silver medal position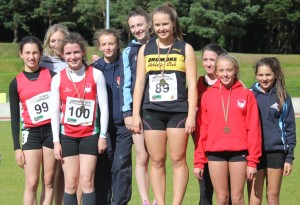 The U13 girls had the second largest field with 9 girls in contention, 3 of whom were CoLAC athletes. Rebekah tackled her first ever multi event in her first season of athletics. Despite this she produced PBs in hurdles and HJ before heaving the shot to the best putt of the competition with her 7.23m throw landing more than 1.6m further than any other competitor.
Holly and Erin are "old hands" at this multi eventing by comparison having competed last year. Holly had the best hurdle run of the day (12.42s) just ahead of her team mate Erin's PB of (12.53s) to leave her 10 points ahead after one event. She gained a further 15 point advantage in the SP with both girls producing PBs. Erin clawed most of that back with her winning LJ of 4.04m and her 1.33m clearance in the HJ launched her well ahead of the field despite Holly's own PB of 1.15m. Both girls ran PBs in the 800m with Erin keeping ahead of her team mate by 2 seconds. Murphy from North Down was able to squeeze between the 2 with her fantastic 2.35.11s 800m run to take second ahead of Holly in 3rd but it was not quite enough to catch Erin who finished with a great 1826 points and the gold medal.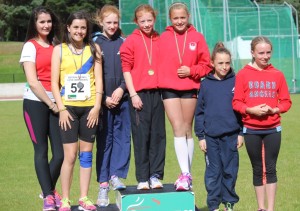 So we had CoLAC in either Gold or Silver medal position or both, on every podium but one. We brought home 4 Bronze, 4 silver and 5 gold medals and, more importantly our athletes had a great day of competition and camaraderie and it was great to see all the competitors on the podium for photographs at the end.
Well done everyone, athletes, coaches, parents and spectators. And Officials!