Tailteann Interprovincial

Sun 22 June 2014--admin
Morton Stadium, Santry
21st June 2014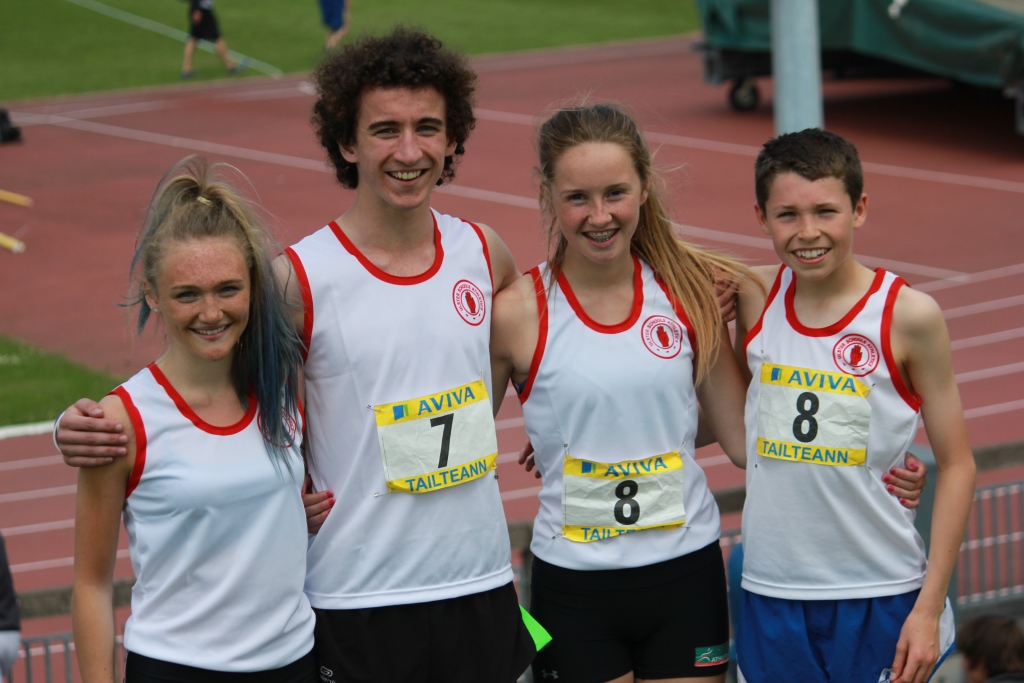 With around 20 CoLAC athletes selected for the Ulster Schools team it was always going to be a very busy day for those supporting them. It turned out to be another very successful day too. There seemed to be one of our athletes involved in most events.
Josh got us underway in the Hammer with his 49.16m PB final round throw that was good enough for 5th. This was followed by our first medal of the day on the track with Ciaran storming to a win in the 400m Hurdles in another PB of 56.02s. This time was over ¾ of a second ahead of his nearest rival and puts him 5th in the UK rankings.
Back in the field events Robbie went clear at 1.90m again for a silver medal at one end of the stadium while Simon took 5th in the Pole Vault with his 2.60m clearance. Simon is still eligible for this competition for 2 more years while Robbie will still be involved again next year.
In the 800m we had Zoe taking 5th in the girls event while Jake, another athlete who will still be eligible next year, ran under 2mins for the first time with his 1.59.58 finish in a race where the top 2 athletes both broke the existing record.
Next on the track was Megan in the 100m were she ran an amazing PB time of 11.71s for the gold medal.
After some confusion we eventually had the 2 long jump competitions taking place on the other side of the stadium. Jess jumped 5.40m for an excellent 5th place in the girls event while Ben lifted gold in the boys event.
In the middle we had Sarah, another athlete with another year in this age group, throwing the Javelin in tricky wind conditions for 8th place.
Tom took 5th in the Steeplechase in yet another PB of 4.46.79 before Maddie, once again another runner with a further year in this age group, ran 10.57.39 for 6th in the 3000m.
Next we had 2 more very young CoLAC athletes involved with Ellie Pole Vaulting a new PB of 2.65m, only missing out on the bronze medal on countback. At the other end we had Anna finishing equal 5th in the high jump. Fantastic results for any athlete but there can be no doubt that both of these girls will return with medals as Ellie is still eligible for this event for 2 more seasons and Anna for 3 more seasons.
Ben had barely time to collect his LJ medal before going straight to the start line of the 100m hurdles where he still managed a PB of 14.04s for 4th place. Therese who had been called into action to replace the injured Kate, had a nasty stumble after hitting a hurdle and did very well to regain her balance to finish the race. She will hope for better next year.
Our triple jumpers were up next with Jess in action again where she was cruelly denied a medal on countback while Mark repeated his form from the Irish Schools to take the gold in the boys event.
Back on the track Catriona took 5th in the 1500m in 4.48.83, a race in which the eventual winner ran the first lap at World Record pace.
The final round of field events saw Alix, still troubled with injury, put the shot to 10.38m and Andrew, fresh from his adventures at the EYOT in Baku, take the silver medal in the Discus.
4 Golds, 2 Silvers and many PB and points scored from our athletes once again.
Well done all.