Ulster Schools Athletics Championship 17th May 2014

Mon 19 May 2014--admin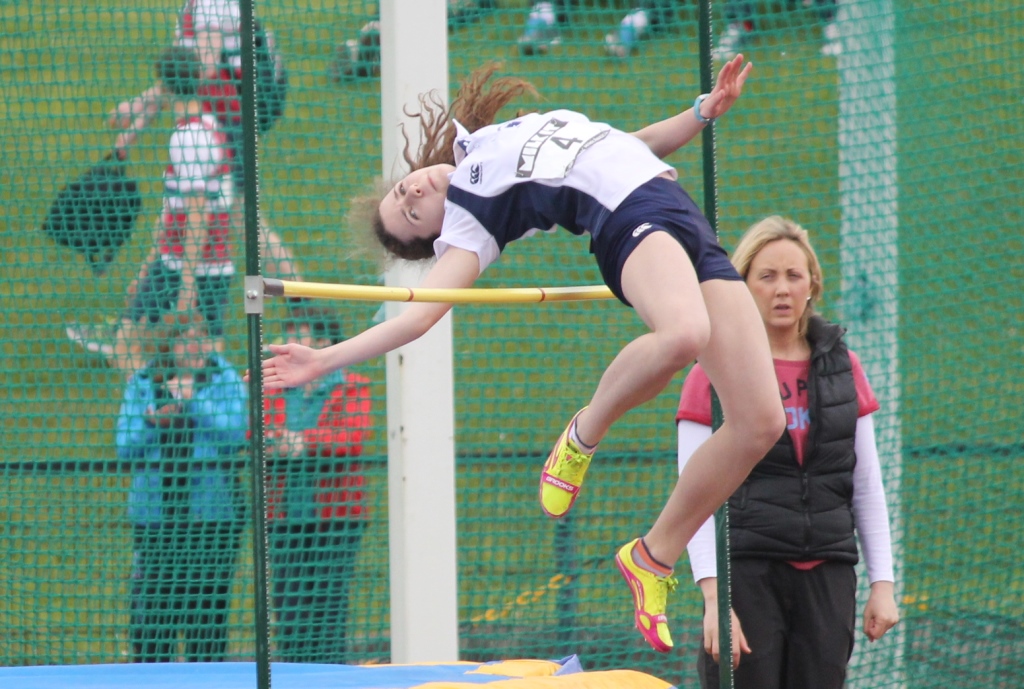 With our athletes achieving about 80 qualifying performances from their District Championships it was always going to be a fantastic day in Antrim and so it proved.
17 Ulster Schools Champions with Gold Medal performances
18 Silver medals
13 Bronze medals
2 New Ulster Schools Records (plus one oh so close)
42 Qualifiers for the Irish Schools
Too many PBs to count!
Minors
Juniors
Intermediate
Seniors
U13 Girls
Our youngest competitors got the day off to a good start with Erin jumping 1.30m for 5th in the High Jump. She also competed in the Long Jump and was frustrated that she could not reproduce her form from the districts as her 4.19m in that competition would have had her amongst the medals. Holly did bring her best and leaped a super PB of 4.18m for the Silver Medal. RebeccaW ran a new PB of 2.39.92 in the 800m to finish 7th
U13 Boys
Colin was our highest finishing representative in this section reaching the final of the 100m with 13.86s.
Junior Girls
AnnaM was in great form lifting the bronze medal in the 100m and silver in the High Jump with a fantastic PB clearance of 1.61m to take her to 8th in the UK rankings in this age group. KatieO was also in action in the High Jump clearing 1.45m for 5th place. Grace took the 200m bronze with Aimee also running well in that final.
OliviaN took 4th in the 800m in a PB of 2.27.00 with KateG also running a PB of 5.03.3 in the 1500m for silver.
Ellie reached the final of the hurdles having won Pole Vault gold the day before with a clearance of 2.25m ahead of OliviaS who took bronze despite competing with an injury.
Eve picked up a bronze in the Long Jump with a very impressive 4.96m PB and RachelB put the Shot to 10.33m for a silver medal.
Junior Boys
Bradley performed well in the sprints reaching the 100m final with his PB run of 12.49s before lifting the silver medal in the 200m in 24.91s.
JakeH was our middle distance champion taking gold in the 800m in 2.01.4 with team mates Callum taking 5th in the 1500m in 4.38.66 ahead of Sean in 7th in 4.43.89.
In the hurdles both Josh and Ethan reached the final where Josh was 3rd, missing the silver by the smallest of margins having run a PB of 12.3s in the semi final. The time clash with his other event, Triple Jump could not have made life easy for him but he still managed 4th with 10.67m.
Ethan high jumped to another 5th place with his clearance of 1.55m while Leon also took 5th in the Shot Putt with 10.15m.
Inter Girls
Megan and Roseanna went head to head in the sprints with honours even as Megan took the 100m gold and Roseanna the 200m with each girl lifting the silver in the other race. AnnaA reached both sprint finals which should put her in a great position for next year when she is still eligible for this age group with Sophie also reaching the 300m final.
Another CoLAC head to head in the 800m ended with Zoe taking gold ahead of her younger team mate Rebekah in 3rd. In the 1500m Catriona ran a 10 second PB of 4.56.26 for 4th ahead of Madison in 6th.
Maddie took a medal of her own in the 3000m in 10.45.87 ahead of Zoe in 3rd.
More success followed in the hurdles with KateF producing a huge PB to win the 80mH in 12.0s ahead of Therese in 4th and Cara in 5th. Cara also tackled the long hurdles where she made the final behind Caitlin who ran a great PB for 3rd place and the bronze medal.
In the High Jump Phoebe jumped her way to 5th in the UK with a fantastic PB of 1.69m for gold before taking 5th in her less familiar role as a Triple Jumper. KateF took 4th in the same competition with another PB of 10.56m but Jess's leap of 10.99m was enough to secure the bronze medal. She went one better in the Long Jump taking the silver with another PB of 5.26m.
Our throwers were also in fine fettle with Alix lifting the Shot Putt silver and Sarah the Javelin bronze ahead of Caitlin.
Inter Boys
Our U17 boys seem to perform at their best when someone puts obstacles in their way and this was made obvious from the first track events when Ciaran ran an amazing PB of 58.67s for gold in the 400m hurdles, a performance which elevates him to 9th in the UK. BenF then took up the challenge with his win in the sprint hurdles in a PB time of 14.36s putting him well clear of the field.
TomB continued the trend with his fine silver medal in the Steeple Chase before he showed that you can actually run without jumping by taking 5th in the 800m.
The boys continued to show their jumping prowess with a clean sweep of golds in those events. Robbie took the High Jump title followed by Mark Triple Jumping a 70cm PB of 13.65m to place him 4th in the UK at the moment. BenF then completed the hat trick with his PB jump of 6.71m for gold in the Long Jump. This jump was just 2cms short of one of the oldest records on the Ulster School books having stood since Mark Forsythe set it in 1982! So close. That jump does place him 3rd in the UK at the moment. MattJ also jumped a PB of 5.77m for bronze in the same event showing great promise for next year when he is still eligible for this age group.
The throwers also shone with Andrew taking silver in the shot before adding the Ulster Schools Discus title and new Ulster Schools record to his already impressive collection with a throw of 51.72m. JoshJ was 3rd in that event before going one better in the Hammer with a throw of 47.85m for a silver medal.
Senior Girls
Once again the jumpers were to the fore here as Jane got things underway for the girls with a PB of 4.94m in the Long Jump for bronze. AnnaMcL stepped it up with a silver in the High Jump and Hannah topped things off with her gold medal record breaking Triple Jump of 11.47m. She then showed her versatility by also taking 4th in the discus.
Senior Boys
Only one athlete stood in the way of a CoLAC clean sweep of the medals in the 100m so we had to settle for Silver for Karl (11.36s) while it took a photo to separate Gareth and Ikenna with both athletes registering 11.47s. the bronze medal eventually was awarded to Gareth who then went on to take silver in the 200m in 23.31s behind Karl in gold medal position with his time of 22.86s. JonnyW took silver in the 1500m in an excellent PB of 4.06.56.
JonnyH then managed a fantastic LJ/TJ double gold ahead of Christian in silver in the Triple Jump where Scott took 4th.
Unbelievable performances form everyone including those who competed but did not reach the top 6 in their events. Every single one of them had already medalled at the districts to even reach this event and they should all be as proud of their achievements as we are !
Well done all.
Irish Schools here we come!